Jon celebrated Women's History Month by touring his latest film and book from "The Sweet Spot" TV series from San Diego to San Francisco.
The film, "Shutout! The Battle American Women Wage to Play Baseball", tells the story of over a hundred years of gender discrimination against American women, celebrates those who've succeeded in spite of it, and considers the path forward to make the game accessible to women at all levels of the game.
His new book, "Baseball Pioneers: True Stories of Guts & Glory as Told by Men and Women of the Game", is a companion to "The Sweet Spot", and four of the six pioneers are women! The two men featured are Jackie Robinson and Jim "Mudcat" Grant. Robinson's story is told by world-class writer Ron Rapoport of the Los Angeles Times.
The March 24 tour stop featured a historic gathering of some of the most accomplished women to play baseball: pitcher Ila Borders, Colorado Silver Bullet Rachelle "Rocky" Henley, Team USA outfielder Lilly Jacobson, and San Jose Spitfires catcher Alex Oglesby. All joined Jon for a spirited discussion and featured a ceremonial first pitch from Ila Borders to 13-year-old slugger Lola M..
In conjunction with the tour, Jon has done numerous radio interviews around the country, including the biggest station is the San Francisco Bay Area: KGO, KCBS, KQED/NPR, and KNBR.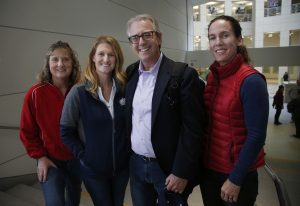 L-R: "Rocky" Henley, Alex Oglesby, Jon, and Ila Borders