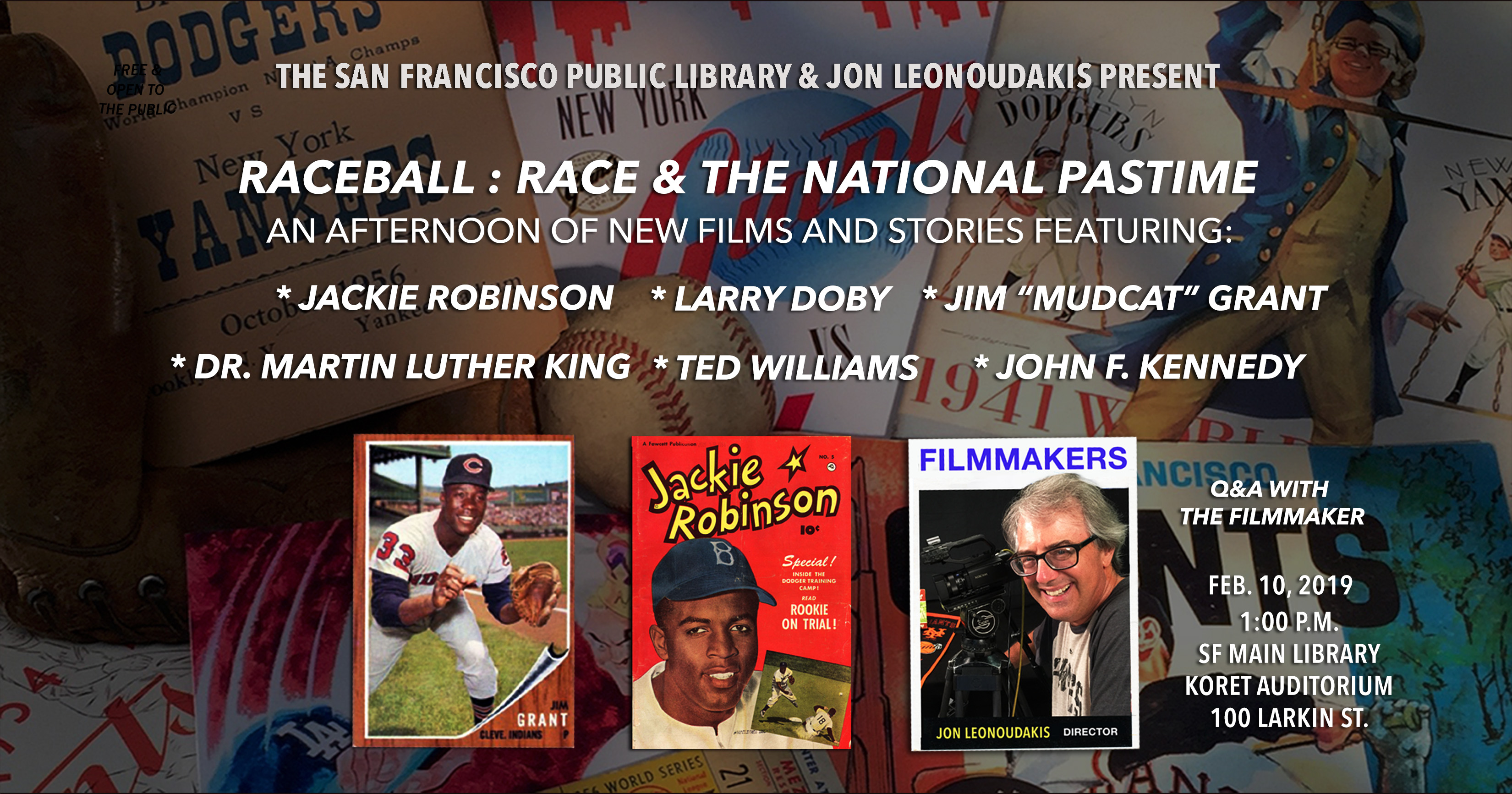 FOR IMMEDIATE RELEASE
January 4, 2019
"RACEBALL" FILM EVENT COMES TO SAN FRANCISCO LIBRARY FOR BLACK HISTORY MONTH
A white catcher sabotaging a black pitcher, telling the opposing hitter what pitch to expect. Ted Williams standing up to racism in Louisiana. Almost 60 years before Colin Kaepernick, a black baseball player protested during the national anthem.
Native San Franciscan and award-winning documentary filmmaker Jon Leonoudakis will present these stories and more in his Raceball: Race & the National Pastime program at the San Francisco main library for Black History Month.
The films are from Leonoudakis's TV series on Amazon and Vimeo On Demand, The Sweet Spot: A Treasury of Baseball Stories. The series offers a new look at America's oldest game, exploring the existential side of the national pastime. The program features two American treasures: Jim "Mudcat" Grant and Jackie Robinson. "Mudcat" is first African-American to win 20 games in the American League and the first to start a game for the American League in a World Series.
Raceball on the Inside Corner chronicles Mudcat's journey facing racism in the Major Leagues, flecked with stories of friendships with Martin Luther King, Ted Williams, and Larry Doby. Breakfast with JFK recounts Mudcat's surprise meeting with President John F. Kennedy during a mid-season road trip in 1961 to discuss race in America.
Jackie Robinson: A Lion in Winter presents journalist Ron Rapoport's story about one of the last interviews Jackie would give months before passing in 1972. Ron shares insight into a complex and heroic man who challenged racial intolerance and blazed a trail that helped change America.
The program will feature Q&A with the filmmaker as well as a book signing of Leonoudakis's Baseball Pioneers, which features Mudcat Grant, women of the All-American Girls Professional Baseball League and others. The event is free and open to the public.
San Francisco Public Library, February 10, 1:00 pm, Koret Auditorium, 100 Larkin St., San Francisco, CA.
CONTACT: Jon Leonoudakis, 818-903-5919, or [email protected]